This market is crazy right now! It is truly a SELLERS MARKET! We are having:
sales prices well above list price
as is purchase
escalation clauses...sometimes with NO CAP (!)
appraisal gaps
things normally conceded are not mentioned (seller paid closing costs, inspection responses, shared closing fees...)
At some point, the market WILL TURN! This is certain as death and taxes. The "feeding frenzy" will subside but when? As Alan Greenspan said
I've got some ideas on that. I've developed some market analytics that should help see the trend subsiding.
Average price of listed houses stabilizes.
Average days on market increases.
Sales price/List price decreases. Right now it's 102%
Average days on market increases. Today we are at 11 DOM.
Percentage of total homes listed that are pending will go down.
I've selected some sample data that goes back to 1/1/21 plus the current market. Specifically my market sampling is:
SE Hamilton County to include Fishers, Noblesville, Carmel and Westfield
Homes $200k-$600k. This is the bulk of the homes sold in the area
I've removed the erroneous data that skews the sample (the unsellable home that is 550 days on market...)
Where's what I've found:
Average 11 days on market. Yes there are lots of homes that sell in 24 hours. Remember this is a broader sample of over 3000 transactions since 1/1/2021.
The average sale price stays strong at $340k.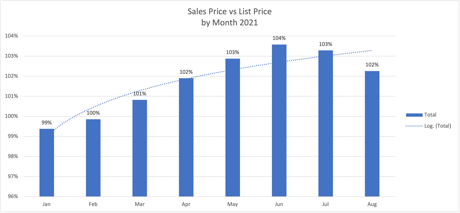 This one is REAL IMPORTANT and could indicate a shift. We peaked at 104% in June and are at 102% now. This means that the average home selling for $340k was listed at $333k and was sold $7k over list.
Lastly the Number of active homes in my sample is 740 of which 79% are ALREADY pending! I cannot pull historical info on this at is changes daily. I will, however, make sure that we record this weekly so we can spot trends.
I encourage you to subscribe to this blog. I'll update it most likely weekly.
Want a CUSTOM data search? Email, call or text me at 317-250-7213.
Here's the current listings for the data set.
Please let me know if my team can be of service to you.
Robert Haynes
Managing Broker
rhaynes.realtor@gmail.com
317-250-7213