So this week in SE Hamilton County was very similar in trend but with a few minor exceptions.
Please keep in mind my sample data is homes between $200k and $600k for Noblesville, Carmel, Westfield and Fishers. This represents the majority of homes sold in the SE Hamilton County Area. Let me illustrate this: right now, there are 1213 homes in the four cities on the market. 132 or 10.8% of those are under $200k. 215 or 17.7% represent above $600k. This means that the $200k-$600k range is 71.4% of the entire market or roughly 3 out of 4 homes sold in the area fall in this price range. Any reference to homes below will be reference to the sample data.
We currently (as of 10/9/21) have 866 homes listed for sale of which 22.4% are available and not under contract. This is a 6.6% increase over last week. Also, overall the number of total homes is up 3.84% over last week. Keep an eye on this. Note the trendline is starting upward. That's a GOOD thing. More balance in the market will be good for everyone.
The number of active vs pending stays sold at 22%. Said another way, out of 5 houses on the market, only one is available for sale. The other 4 are spoken for and under contract.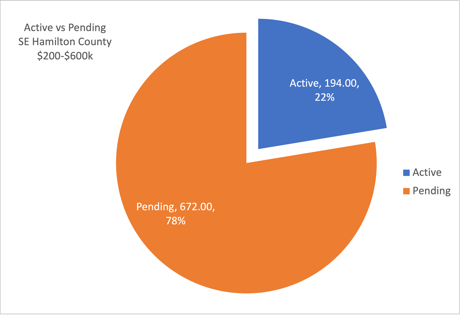 I maintain that there are 5 indicators that will start a trend reversal:
Prices stabilize
Percentage of active homes that are pending decreases
Days on market increases
Overall number of listings increases
Percentage of sales price vs list price decreases.
Our sellers market continues to stay strong. That's great IF you're a seller...but unless you're moving into assisted living, a motor home or a depressed area, most people are also buying. Everyone is OVER PAYING for real estate right now due to the competition. That's a given.
Here's my advice to buyers:
Know and FULLY understand the market. If your time frame is short (say less than 5 years) consider waiting until the market stabilizes before you buy. If you really need to buy, pay ONLY the amount you are willing to pay with no regrets and that allows you to sleep at night. Unless the home is ridiculously over priced, you'll most likely have to go above list price and give a lot of concessions (as-is, appraisal gaps, no seller paid closing costs, etc) to JUST be competitive. If you throw in a contingency (gotta sell my house first, for example) you most likely won't be competitive at all. Just be sure you know and understand the market. Our agents are specifically training to educate both buyers and sellers on the market conditions.
This too shall end. At some point, the worm will turn. The big question is will you be poised and ready to take full advantage of the market. Stay tuned to this blog. We do weekly updates with a comprehensive update at the beginning of the month.
If I or my team can assist you in understanding this market, please don't hesitate to reach out to us. if you want a CUSTOM data analysis, please don't hesitate to ask. It's free.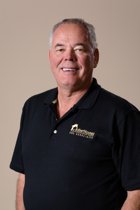 Robert Haynes, Managing Broker
317-250-7213 cell/text
rhaynes.realtor@gmail.com
These homes are available RIGHT NOW!