Welcome 2022! Let's hope that this year has less turmoil than the last two. Between COVID, inflation, supply chain shortages, labor shortages and more...we're hopefully in for a better year. I sure hope so!
Please remember, my data sample is ONLY for Carmel, Fishers, Noblesville and Westfield between $200k and $600k. This represents 78% of all homes sold in SE Hamilton County.
This last month has been rather interesting. We have seen a significant shrink in the inventory compared to previous months. This market shrinkage started in November.
This is the current listings in our sample data. You can see we dropped significantly. The number of available homes also dropped by 5% to only 20%. Previously, 1 in 4 houses was available. Now it is 1 in 5 or 20%.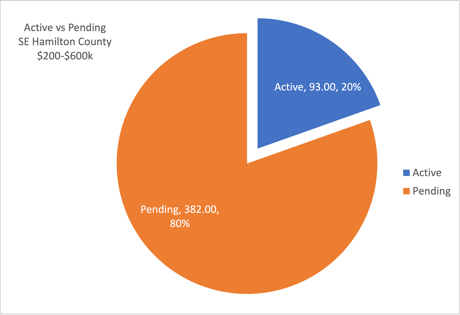 So what's the cause? Personally, I think it's more seasonal than anything else. Unless you REALLY have to, most people don't want to move during the holidays...hence, less homes are on the market right now. I DO expect this to increase over the next 4 weeks. Stay tuned and we'll see if I'm right on that one.
The overall sales have actually stayed strong but there was a decline in December. This graph shows 436 homes closed in December...I'm guessing most of those in early December.
Average price of homes sold climbed about 1% so the trend is still climbing. Does the broader inflation issue effect the housing market? I think indirectly it does. The cost of building materials continues to soar pushing up the price of new construction. As the existing market is, in effect, in direct competition to the new construction market, it will respond accordingly. I'm HOPING this will stabilize. What will stabilize the market is INCREASED INVENTORY! Basic laws of supply and demand will impact pricing.
What is driving prices right now are two primary things:
1. Lack of inventory which feeds...
2. Competition resulting over list bidding wars, waived inspections, appraisal gaps and many concessions.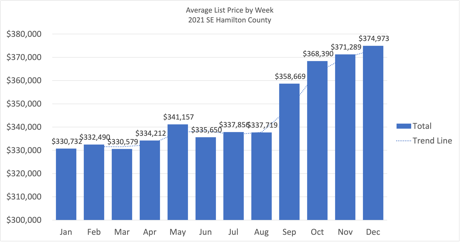 The average sales price vs list price rose only slightly. We were declining (possible softening of the market) consistently since June 2021 with the exception of October. January will be interesting to see if the this stat will increase. Pay attention to this one!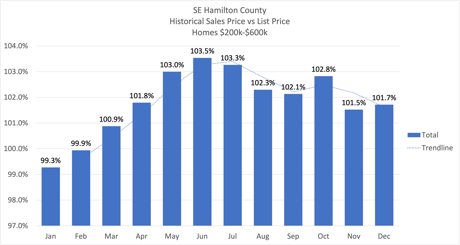 Lastly, Average Days on Market had spiked to 18 but fell back to 16 in December. That could certainly be a supply issue. With less homes on the market, there is more competition for those thus it's reasonable to they they won't last long. It's consistent with supply/demand theory.
I look optimistically at 2022! Honestly, I'm hoping the market becomes more balanced. With a strong seller side market, it skews the market prices unrealistically and makes it extremely difficult for buyers. Be careful of auction fever! When the market equalizes, we want to be careful we don't buyer's remorse and be upside down on our home values.
If I or my team can be of assistance, please don't hesitate to contact me, Jen or Suzanne. We'd love to help you navigate thru this market.
Click below on the city icons below. These are the current homes available for your viewing convenience.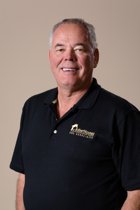 Robert Haynes, Managing Broker
317-250-7213 cell/text
rhaynes.realtor@gmail.com
These homes are available RIGHT NOW!