Our market sample is SE Hamilton County (Fishers, Noblesville, Westfield and Carmel). I only sample data from $200k-$600k since the majority of our sales are in this range.
The month of October has been interesting for sure! Total sales for the month actually dropped by 12.4% down to 407. Could this be a sign of slow down in the 4th quarter? Perhaps but let's dig farther.
Average prices jumped $10,000 to $368k. This is significant especially when you consider the first 8 months was fairly stable, then a spike in September then again in October. It could be a sign that the inventory levels are such that people are not finding suitable housing their price range and are "upping" their limit.
so now let's consider Sales price vs List price. This actually rose in October to almost 103%. This means that sellers are getting on the average 3% over their asking price. The trend had started down perhaps indicating a softening but...is this an anomaly or a trend reversal? Remember, one tick mark doth not make a trend.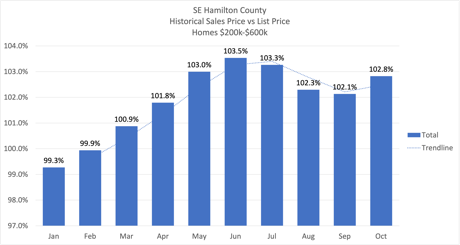 Considering days on market. We started to see this climbing back up indicating a softening. However, October showed it go back to 12 days...again perhaps so inventory shortage causing competition and scrambling to get a home.
The active market market actually shrunk a bit. Last month 24% of all listings were available (active) and 76% were pending. Currently there are only 22% are available.
You can see that overall the number of listing actually went UP in the last week but the actual percentage of those that are pending went up also.
My take: This is still a very robust market for sellers. Some variables that can and do effect the market:
1. interest rates
2. political climate
3. seasons (we ARE going into the holidays)
4. weather
5. fear/confidence in the market
For sellers, there are 5 criteria that determine your marketability:
1. Structure/habitability of the home
2. Location
3. Condition
4. Presentation
5. Price
The first two, you can't control much. The next 3 are very much in your control. The great equalizer is price. Price is the catalyst that fuels most sales. I've always said "I can sell ANY livable home in 12 hours. You may not like the price but I'll get it sold." (I may even buy it myself!).
We do not have a clear direction one way or the other. The holidays MAY slow us down a bit but is that a season shift or a market shift? Time will tell.
If I or my team can assist you in understanding this market, please don't hesitate to reach out to us. if you want a CUSTOM data analysis, please don't hesitate to ask. It's free.
Click on any of the city icons below to see the actual homes for sale RIGHT NOW! Maybe my team can assist you in snagging your dream home.
if you're a seller, I'd love to discuss our marketing strategy with you.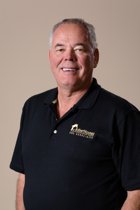 Robert Haynes, Managing Broker
317-250-7213 cell/text
rhaynes.realtor@gmail.com
These homes are available RIGHT NOW!