The market continues to stay strong. It is clearly a a seller's market. If you're a buyer, expect a LOT of competition and challenges ahead of you. Offers are usually over list price, have an as-is addendum, appraisal gaps and even acceleration clauses. Honestly, if you're an FHA buyer with minimum down, it's gonna be difficult until this feeding frenzy settles down.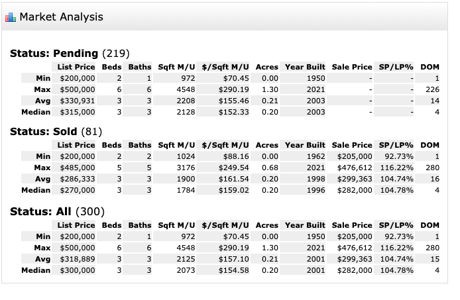 Sellers have unique challenges too. IF you want to get your highest dollar amount, we suggest doing the following:
1. do the simple fix up stuff needed
2. present your home well
3. price your home fairly
4. make your home easily accessible for showings
5. allow multiple days for showings with a common deadline response times
6. be realistic in your expectations (people are hungry for homes but that doesn't mean they are willing to pay stupid money for your home)
7. communicate well with your realtor
Here's the latest market report for Fishers with homes $200k-$500k. Your home may/may not fall in this category but it does give you an idea of the market.
We'd love to help you in you sell or purchase a home.
Call us 317-250-7213
Robert Haynes and Associates